Metallic Paints Are The Next Big Thing
As the creative force behind the Midwest's favorite paint brand, I was (and always am) invited to the prestigious Met Gala. Knowing that fashion trends are a harbinger of interior design trends, it's only natural that I should attend exclusive, star-studded events like the Met Gala where nascent fashions are on display. Unfortunately I couldn't make it to this year's ball. I wanted to attend but the court order is VERY clear, I need to stay at least 1,500 feet from Taylor Swift at all times (it's all a misunderstanding, Tay-Tay!) and I didn't want to cause another awkward scene at the Social Event of the Season. Lucky for me, there's enough star power at the Met Gala to attract reporters and photographers from every major news outlet so this year's Met fashions are well documented. Let's take a look:
Check out our Metallics LookBook for more metallics inspiration for your next project!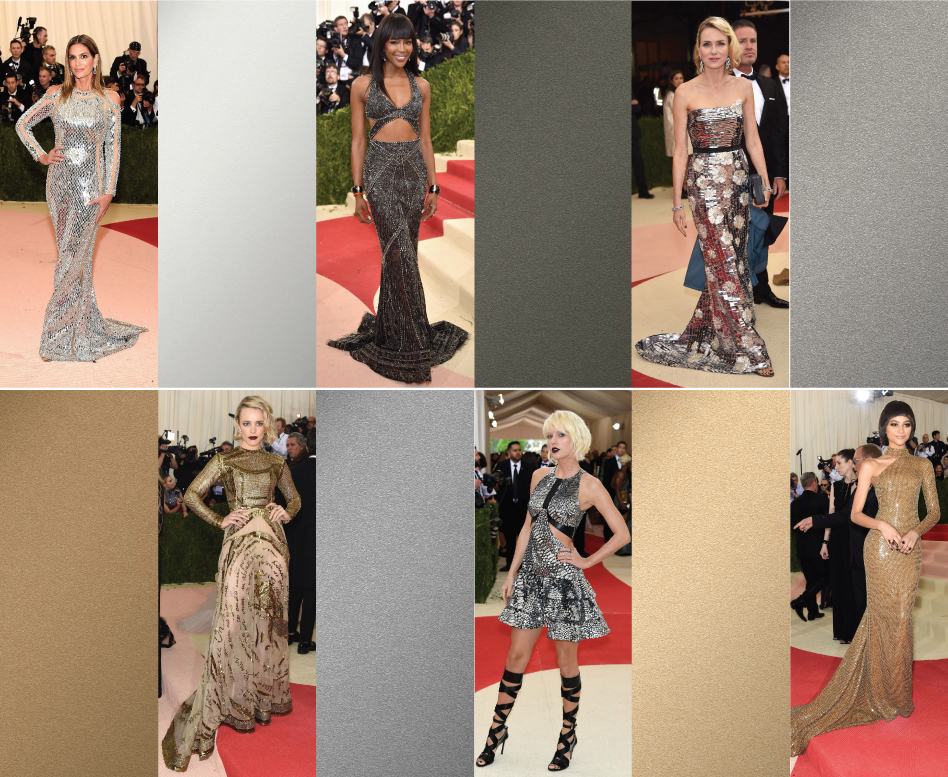 The theme for the 2016 Met Gala, Manus X Machina: Fashion in the Age of Technology, recalled the dreams of alchemists seeking to perfect the human form and turn base elements into silver and gold. How will advances in technology affect the human form? What is the role of fashion in these advances? Are we to become robots, cold practical, efficient? Or a higher form of humanity, sleek, radiant, enlightened? I leave it to luminaries like Lady Gaga, Beyonce, and Kim K– bedecked in futuristic couture from Louis Vuitton, Givenchy, Versace, Chanel, and more–to answer these questions and lead us to the Brave New World awaiting us.
The Met Gala is one of the fashion industries biggest events and metallic colors were featured heavily on the Red Carpet this year. All the major fashion houses skillfully wove silvers, golds, and shimmering shades of every hue into stunning fashions that enhanced the human form and diminished the line between humanity and technology. The trend towards metallics seen this year will hit the interior design world soon. When it does, Scuffmaster will be ready. We have more metallic colors and options than any other brand of coatings. Functional, low-emitting, super tough and easy to use, Scuffmaster's pearl and metallic paints balance technology and glamour and are the perfect addition to walls, offices, columns, architectural features, elevator doors and more. Check out our Metallics LookBook for more metallics inspiration for your next project!
If you can't wait to add a bit of the future to your present projects, order some Scuffmaster metallic samples today!